Get in touch!

This is a network with regular meetings and open to all men working with children aged 0-5, we are actively seeking new members to join us, new settings to work in partnership with and can be contacted around support in setting up a network.
As part of our work around outreach and research, we are actively seeking those passionate about engaging more men into early years.
We are further available to guest speak on issues facing men in early years, the workforce as a whole and how to build your own local network.
To join the network or for all enquiries, please contact:

BMIEY@Bristol.gov.uk




Further reading:

Ärlemalm‐Hagsér, E. (2010) Gender choreography and micro‐structures – early childhood professionals' understanding of gender roles and gender patterns in outdoor play and learning, European Early Childhood Education Research Journal, 18(4), 515-525.
This article draws attention to how a group of Swedish pre-school professionals understand and experience their work of creating gender equity in their programs. In this study, outdoors was seen as gender-neutral place and professionals appear to be gender-blind in some of the frequently recurring situations in pre-school. The findings highlight the complexity in finding new ways to counteract stereotyped gender roles and patterns in children's outdoor play and learning.
Daycare Trust, (2003). Men's work? Changing the gender mix of the early years workforce. London: University of London.
This paper starts by referring to some recent research on fathers and their relation to childcare. It then considers four broader issues: gender equality, the labour market, the needs of the children, and child protection.
Peeters, J. (2007) Including men in early childhood education: Insights from the European Experience. NZ Research in Early Childhood Education.
This paper examines the crucial question of what can be done to increase the employment of men. It discusses possible policy measures, men-only training courses, male mentorship of trainees, recruitment procedures that give equal opportunities to men, ways of remodelling the sector and of creating a men-friendly climate to make men visible in services.
Barton, (2016). Why Consistent Carers Are More Important Than Male Role Models For Boys. The Huffington Post UK.
A report from The Open University and national charity Action for Children,Beyond Male Role Models: gender identities and work with young men, explores the relationships between young men and professionals working in the care and support service fields.
Zero Tolerance (2013) Respect Gender Equality in the Early Years. Edinburgh, UK.
This guide to preventing gender stereotyping in the early years is aimed at childcare professionals who work directly with very young children, and who are in contact with their parents and carers. It provides resources to support professionals and parents to raise children who are not limited by outdated or restrictive ideas of what is suitable for boys and for girls.
A Senior Lecturer at Lancaster University with a professional interest in the subjects of gender and ideas of masculinity, please see the link above to further explore her work in the field.
the Fatherhood Institute #MITEY
Men In The Early Years #mitey is a project the Fatherhood Institute is developing, to help increase the diversity and gender balance of the early years workforce.
The Scottish Funding Council is developing a Gender Action Plan (GAP) to address significant gender imbalances in further and higher education. It further aims to explore wider organizational gender inequalities.
Bristol Men in Early Years Network
We are a city wide network of men who work with children aged birth to seven, consisting of Early Years Practitioners, Teachers, Head Teachers, Social Workers and Governors, we are open to all professions. We meet quarterly to share experiences and ideas as well as talk about current research and issues; ranging from child protection and challenging stereotypes to practical activities and increasing the involvement of significant males in children's lives. We are currently developing links with universities and invite others to work with us on research projects. We are also beginning our own network research on parental feelings and perceptions of male practitioners.
Our Values and Aims
To be a hub of experience, research and support professional dialogue for men working with young children
As a wide and constantly expanding network of a diverse range of males within the early year's workforce, we aim to be a part of a large driving force for research on diversity, gender and inclusive practices within Bristol. Being a hub of support is a crucial value to us as we aim to help in offering guidance and sustaining a cohesive network across the city.
To encourage more men to work in the Early Years sector.
With such a uneven workforce within early years, a main aim of ours is to lead integration of males working with children at a young age, making those crucial positive impacts on their lives. We aim to achieve this through outreach work around Bristol to engage and connect with those looking for a challenging, exciting and ultimately rewarding career in early years.
To challenge commonly held perceptions and stereotypes about gender in Early Years
Tackling gender inequality, both amongst staff and children, is a big part of what we do. Unfair rules on what it means to be a 'boy's boy' or a 'girly girl' lead to developmental differences between the sexes and it's led to where we are now – too many boys growing up be afraid to work with children due to stereotypes of gender fed to them every day. Our network aims to challenge these views and support gender equity within all settings.
"It is interesting to see the diversity of roles filled by men within Early Years in Bristol, and the very varied issues they have to deal with on a day to day basis."
Bristol Men in Early Years member.


---
Network Meetings:
We hold regular networking meetings for men working in the Early Years sector. See the flyer below for details of forthcoming meetings. All men working in Early Years are very welcome. Come and be part of a cohesive campaign to change widely held perceptions and encourage more men to become involved in children's lives...
Minutes
previous meetings can be downloaded using the dated links below.

Quarterly Network Meeting January 2017, Guest Speaker Yuwei Xu
The network was fortunate enough to welcome Yuwei Xu, who delivered a session on 'Rethinking Men's Participation in Early Years Educations and Care'. See full minutes here.
10th Annual Early Years Conference, Doncaster - November 2016
Bristol Men in Early Years were fortunate enough to attend the second day of the conference hosted at Doncaster University. Focusing on 'Narrowing the Gap', the day tackled the disparity between the achievements of girls and boys, providing some insight into the reasoning alongside strategies to improve the current failings.
Gary Wilson headed the keynote speech and delivered an inspiring message along with a good measure of humour. He began by declaring the importance of quality of deliver over simply attempting to increase male representation. Bemoaning the current culture of laddish or demeaning stereotypes, he instead put forward some great ideas for engaging boys as well as dispelling the myth that boys love competition and in fact crave challenge; a subtle but key difference.
Nicola Jones discussed the biological differences between boys and girls and how understanding these can lead to us better support children.
The Eureka Nursery team presented examples of their brilliant practises and shared some of their particularly interesting ways of encouraging physical play including ruff play and forest school.
Ben Tawil spoke of the use of play as a vital tool for learning. He outlined his theories through the term 'ludicology', stating that a child is not being born with capabilities, but capacity. He also highlighted how children are constantly 'in control of being out of control' and often between 'jeopardy and mastery' and how this is a key feature of learning. His belief is that there needs to be a focus on 'playwork', particularly the value of outdoor play, doing away with expensive resources and going back to nature.
BMIEYN Network Meeting - October 2016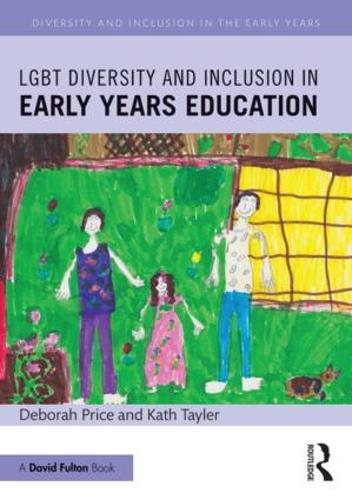 Deborah Price, a lecturer at Brighton University, was invited down to talk about her experiences of transgender and LGBT issues in the Early Years and discuss how we can effectively work with parents to support the child in making decisions around their gender.
4th SIG gender balance research conference in Dublin, Ireland: Gender Balance in ECEC: new research perspectives September 2016

The 4rd SIG research conference invited to an open debate on gender balance issues based on reports on national and regional developments, and recent research studies. Shaddai and Oscar, from the network, were present and took part on the day. Round table talks and dialogues in small groups gave room for exchange.
26 researchers from Belgium, China, Germany, Greece, Iceland, Norway, Poland, Sweden, Turkey, and the UK, took part. The conference was organized and chaired by Anna Bujnowska, Kari Emilsen and Tim Rohrmann. See full report here.
BMIEYN Men at Work - NDNA Feature - August 2016
Shaddai, on the Leadership team with the network, was recently invited to comment on the lack of representation for the low numbers of men working in Early Years Education. Read more here
SAMEY Response to Andrea Leadsom Comments - July 2016
This is a principle of human rights. Boys and girls have a right to be cared for by men and women and men have the right to work with young children. It is not for jumped up hacks to dictate to our society how we should think and act. Nor is it the place of the tabloid press to print such inflammatory and prejudiced propaganda.
David Wright reflects on the comments made by Andrea Leadsom, available here. The Bristol Men In Early Years Network states its endorsement for this article. As a city wide network working to challenge commonly held perceptions and stereotypes around men in the early years, we shall continue working to ensure that more men are welcomed into the sector and are having a positive impact on children's lives, just as they should.
BMIEYN Network Meeting - July 2016
Dr. Jo Warin, a senior lecturer at Lancaster University, was invited down to talk about her experiences of interviewing and observing Swedish male staff in EY and discuss how the presence of men in EY can be a positive challenge to gender stereotypes.
Meet the male teachers changing the perception of nursery school education - June 2016
"For far too long we've had an upside down education system – with all the emphasis on the importance of GCSE, A Level and university," explains Jay Ramsey, 40, a nursery teacher at St Werburgh's Park School in Bristol. "But research shows that the influence of a good quality nursery environment continues to be felt right through to GCSEs and A Levels – and these benefits can even be measured economically."
Rob Kemp reports on the work being done by the network to challenge stereotypes and raise the profile of the early years sector. See full article here
BMIEYN Network Meeting - April 2016

Marvin Rees was the guest speaker at the last meeting of Bristol Men in Early Years Network held at St Werburgh's Park Nursery School on 19th April. Marvin spoke about his own experiences growing up as a mixed-race kid with a single mum in Bristol and the massive impact that having a black male worker at his nursery has had on him. He also spoke about his involvement with work around parenting and mental health. We then discussed key issues and priorities for the Early Years within Bristol. Marvin demonstrated a good understanding and expressed a willingness for further consultation and the ability to pull people together, emphasizing the Happiness Advantage and the long-term social and economic benefits of getting it right in the Early Years.
BMIEYN at National Men in Early Years Conference - February 2016

Bristol Men in Early Years Network recently made the trip down to Southampton to take part in the first ever National Men in Early Years Conference hosted by David Wright, of Paint Pots Nurseries, and Gary Crawford. The day was an overwhelming success with plenty of support for the BMIEY network. Our stall was busy with interest around our story so far and Jay (Centre, left) was fortunate enough to invited on as a guest speaker on the final panel.
Stay posted for more images from the day coming soon!
Men making a difference in early years education - February 2016

A group of highly motivated male teachers, practitioners and professionals from Bristol have joined forces to encourage more men to consider a career in early years and challenge common stereotypes about males in the profession. Read full article here.
Teachers' TV featuring Men in Early Years
Teacher's TV made a film about 3 male practitioners working at Filton Avenue a few years ago. This can be viewed below: